DESCRIPTION
Common hazel-this is a multi-stemmed deciduous shrub, which grows up to 5 m in height. It is the earliest flowering tree in Poland - its flowers appear in February. The hazelnut leaves are characteristic, wide-oval, up to a length of 10 cm, serrated edges, and pointed at the top, and at the base slightly heart-shaped. In autumn they turn to yellow or yellow-brown. Hazelnuts are fleshy, aromatic and tasty, and also very healthy - they contain minerals and are rich in vitamins. Perfect for liqueurs, preserves and pickles.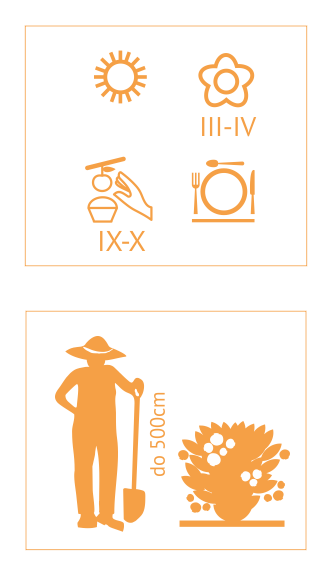 ADVICES
The plant is very tolerant with regards to light, it even grows well in shade, but it will not fruit as well. The tree should be sheltered against strong wind. It grows well in every type of fertile free draining soil, except very light, sandy, dry, heavy and where the water table is high, and the soil retains water. The Optimum pH should be between 6.0 - 7.0. The Plant is resistant to very low temperatures.
Young hazel bushes grow well without pruning. Only weak shoots need be removed. When it comes to older plants, some of the oldest stems should be removed annually.