DESCRIPTION
Baby Masquerade - this is a miniature rose variety that has numerous multi-coloured gold/yellow-pink flowers. The flowers have a diameter of 3-4 cm and consist of 17-25 petals. This rose blooms repeatedly throughout the season. This variety is healthy and resistant to difficult atmospheric conditions.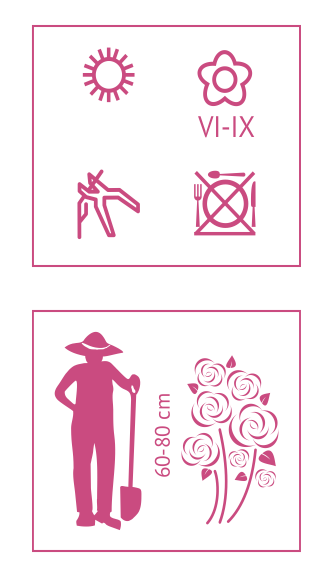 ADVICES
This shrub is best planted in a sunny position. It grows well in sandy-loam soil which is moderately moist, and has an optimum pH in the range of 6-6,5.
In late autumn the shoots should be covered with earth, sawdust or peat. This will protect the rose from frost. In early spring uncover the shoots so the sun has access to the plant. The crown of the rose should be protected against frost and moisture in winter by covering with agricultural fleece, this should be stiff on the outside and gathered at the bottom to create a cavity that could be filled with dry straw, sawdust or leaves. During the flowering season remove faded and dead flowers. In summer, the plant needs watering - this is best done in the morning or in the evening. Avoid soaking the leaves and flowers.