DESCRIPTION
Floribunda rose (standard) - this plant is ideal for growing up a support. The leaves are dark green, matt or slightly shiny, and remain for a very long time on the shoots. In autumn they change colour, which make them very spectacular. The small, single, flowers are gathered in large elongated clusters. They are purple and bloom profusely from June to the end of July. They give off a very intense, pleasant fragrance. After flowering, the plant shoots begin to fruit, producing a very large amount of small, spherical, red fruit that adorn it sometimes even until early spring.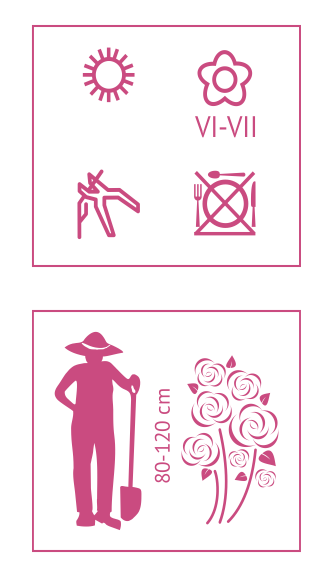 ADVICES
This shrub is best planted in a sunny position. It grows well in sandy-loam soil which is moderately moist, and has an optimum pH in the range of 6-6,5.
In late autumn the shoots should be covered with earth, sawdust or peat. This will protect the rose from frost. In early spring uncover the shoots so the sun has access to the plant. The crown of the rose should be protected against frost and moisture in winter by covering with agricultural fleece, this should be stiff on the outside and gathered at the bottom to create a cavity that could be filled with dry straw, sawdust or leaves. During the flowering season remove faded and dead flowers. In summer, the plant needs watering - this is best done in the morning or in the evening. Avoid soaking the leaves and flowers.