DESCRIPTION
English dogwood - this is an ornamental shrub reaching a size of up to 1.5 m in height, and 1 m in width. The leaves are green, ovate, with a slightly serrated edge. Its biggest attraction, are the beautiful flowers blooming in June. They are pure white, small, gathered in clusters of 3-7, and give off an extremely pleasant scent.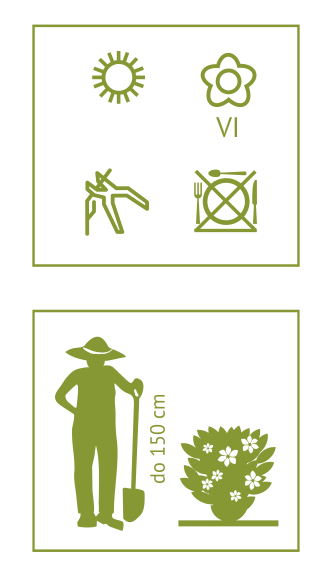 ADVICES
This plant is best planted in a sunny or semi shaded position. It grows well in almost any soil, but prefers fertile, fresh, and lime rich soil.
Before planting remove all weeds. If necessary, mature compost could be added to improve soil structure. After planting, water and mulch the ground around the shrub, to reduce evaporation and weed growth. Adult plants require rejuvenation pruning every few years - cut away some of the oldest stems at the base. A rejuvenated plant will flower abundantly, which is the most important for this decorative shrub. Prune after flowering. For fertilizing, use compost or a multi-component fertilizer.