DESCRIPTION
Apple tree Mini - this low form of graft grows up to 80-100 cm, which makes harvesting very easy, even for children. The tree produces showy flowers in the spring, and in late summer the fruit will ripen to become aromatic and delicious. The fruit grows very abundantly.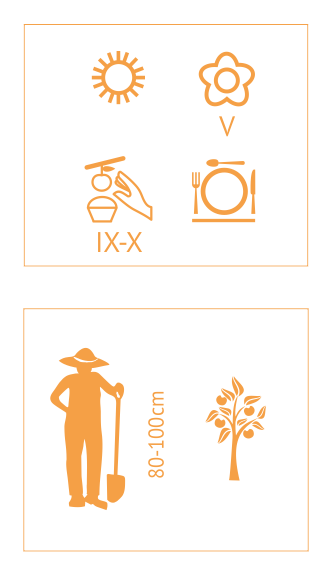 ADVICES
The tree is best grown in a pot or in the ground. The position should be warm and sunny and sheltered from wind. The plant prefers humus/clay soil which is moderately moist. The optimum pH is in the range of 6,2-6,7.
The apple does not require pruning, but you can trim the crown to promote growth. The blossoms should be protected from frost-if grown in a pot, it should be taken indoors, and if planted in the ground should be protected with an agricultural fleece. The tree should be regularly watered and the soil in the pot should always be kept moist. Before the onset of winter and the first frost, the pot should be brought indoors.