DESCRIPTION
Dama de Coeur - this variety has beautifully constructed intensely stained maroon flowers, which are mounted on long stems. The flowers are full, very large, their diameter up to 13 cm, and mounted individually or clustered on the stems. They give off a strong scent. This variety is perfect for flower beds. Suitable for cut flowers.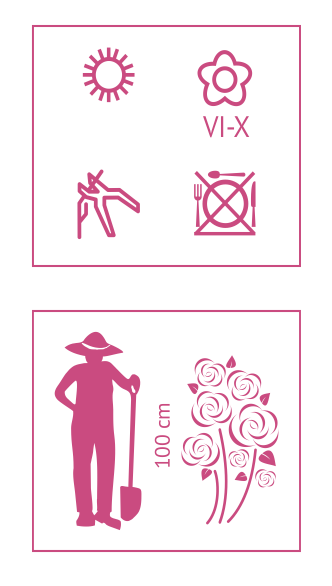 ADVICES
This shrub is best planted in a sunny position. It grows well in sandy-loam soil which is moderately moist, and has an optimum pH in the range of 6-6,5.
In late autumn the shoots should be covered with earth, sawdust or peat. This will protect the rose from frost. In early spring uncover the shoots so the sun has access to the plant. The crown of the rose should be protected against frost and moisture in winter by covering with agricultural fleece, this should be stiff on the outside and gathered at the bottom to create a cavity that could be filled with dry straw, sawdust or leaves. During the flowering season remove faded and dead flowers. In summer, the plant needs watering - this is best done in the morning or in the evening. Avoid soaking the leaves and flowers.