DESCRIPTION
Red barberry - this is an ornamental shrub reaching a height of 2 m. It has numerous arched branches that are sprinkled with tiny red leaves, that in autumn will turn to make a red-orange-yellow composition. Yellow flowers appear in late May and early June, and are later replaced with green fruits, that in autumn turn to a deep red colour. They often remain on the vine throughout the winter, strikingly contrasting with the white snow.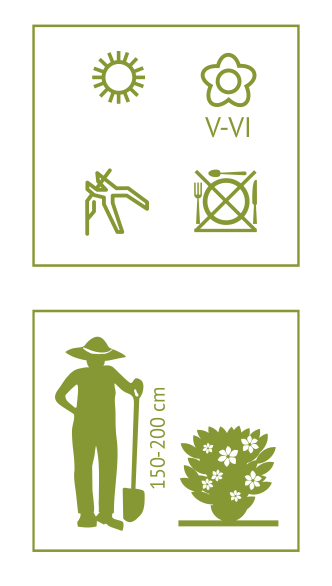 ADVICES
This shrub is best planted in a sunny or semi shaded position, and tolerates any type of garden soil, although it prefers light, well-drained and slightly acidic soil.
Pruning should be performed in early spring. In order to thicken the bush annual pruning is necessary. Over the first two years the shoots should be shortened by half. In subsequent years, only shorten shoots that are diseased, or over grow the shape of the plant, cutting by 1/3 of their length. Every few years, the shrub should be rejuvenated by completely removing the old stems. This variety is resistant to diseases and parasites.