DESCRIPTION
Japanese rose "Wild rose"- this shrub reaches up to 1.5 m in height. It is characterized by an upright, bushy appearance. The stems are densely covered with thorns. The leaves are composed of 5-9 leaves that are leathery and wrinkled. In June, pinkish, fragrant, single flowers bloom. Their diameter reaches 8 cm. In the period between summer-autumn the shrub is decorated with red-orange round fruit. Perfect for liqueurs, preserves and pickles.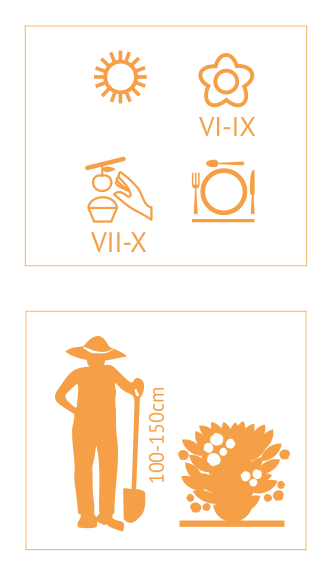 ADVICES
This Japanese rose grows equally well in full sun and partial shade. There are no special requirements for the soil - it grows even on sandy soils that are low in nutrients.
In early spring, remove the oldest and diseased shoots, cutting them at the base. Above that, cut the thicker, strong stems by about 1/3 of the length, to promote growth. If strong rejuvenation is desired, prune by cutting all old stems at the base, and the others at a height of about 20 cm. This Japanese rose should be fertilized with organic fertilizers. The plant is fully resistant to frost, soil salinity, and air pollution.