---
DESCRIPTION
Stromboli is a garden bed rose variety with beautiful, intensively red flowers. Grows up to 1 m in height. Blooming profusely for a long time, from mid-June until first days with freezing temperatures. Flowers gathered in bunches, round, 5-7 cm in diameter, with a delicate smell. Blood-red flowers give an impressive contrast with dark green, shiny leaves. Stromboli rose is recommended for garden beds and planting in groups. This variety gets condensed easily, which makes it useful for free growing hedges. Its flowers are good for cutting.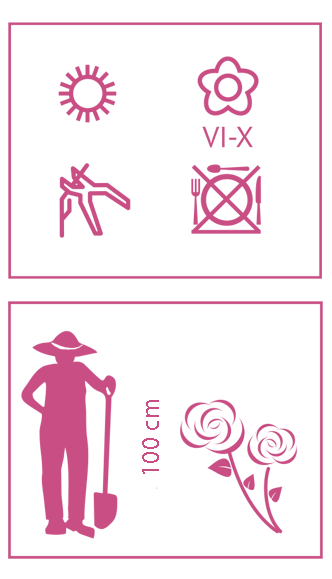 ADVICES
It is best to plant this rose in a sunny location. It grows well in sandy and clayey soils. Prefers wet substrate, with pH ranging from 6 to 6.5.
Remove withering flowers and inflorescence regularly. The bush requires flowering in summer - it is best to do it in the morning or in the evening. Avoid wetting leaves and flowers. In late autumn, prune leaving approx. 10 cm shoots. Cover them with soil, sawdust or turf to protect the plant against frost. Dig up the heap in early spring to let sunlight reach the shoots and leaves. Apply proper spraying to protect against black spot.