DESCRIPTION
Ramona is a large-flowered rose variety with subtle flowers. The shrub is stiff, lush. It grows up to 1.5 m in height. The leaves are dark green, shiny. The flowers grow singly, they are flat, cherry-pink on the outside, gray-pink inside. Neat, yellow stamens protrude from them. The flower reaches 8 cm in diameter. Ramona blooms once a season, while the flowers persist from the beginning of to the full summer.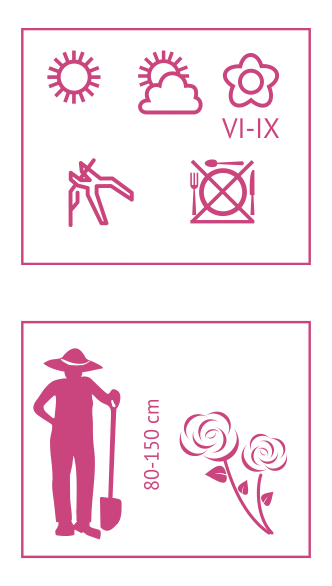 ADVICES
This shrub is best planted in a sunny position. It grows well in sandy-loam soil which is moderately moist, and has an optimum pH in the range of 6-6,5.

The faded flowers should always be removed from the plant. In summer, the shrub requires watering - this is best done in the morning or in the evening. Avoid soaking the leaves or flowers. In late autumn prune the plant, leaving only 10 cm of shoots. Then cover them with earth, sawdust or peat. This will protect the rose from frost. In early spring uncover the shoots and leaves so that the sun can have access to the plant. In order to prevent black spot use a suitable spray.