DESCRIPTION
Camellia Principessa Baciocchi is a beautiful ornamental shrub with glossy, leathery, dark green leaves that do not fall in winter. The flowers of this variety are delightful - large, full, and bright red. Principessa Bacciocchi blooms from February to April. It grows up to 3 m in height.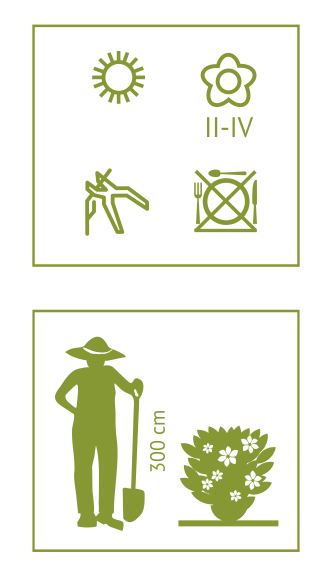 ADVICES
This shrub is best positioned in a bright place, yet sheltered from direct sunlight. The plant prefers free draining humus soil. The optimum soil pH should be slightly acidic.
In Poland Camellias are usually taken indoors for winter. The plant should be watered well in spring and autumn. While in summer, when the first buds appear watering must be limited, however do not allow to dry out. In winter, once again limit watering, as the temperature decreases. The aim is to provoke the plants to bloom. When in bloom, water well again. Once every few years the shrub should be trimmed. Trimming (and replanting) Camellias should be done immediately after flowering. Young shoots shortened back to the woody stem. Fertilizers should be used, especially during flowering, but the dose should be diluted.